Welcome
The Clay Commons is a ceramic studio located in Hood River, Oregon. The studio offers classes, as well as memberships to individuals with clay experience looking for a space to work. The intention is to create a comfortable and safe space for both budding and established ceramicists to work in while building community. We also host groups of  8+ for private parties and team building events. 
Studio Info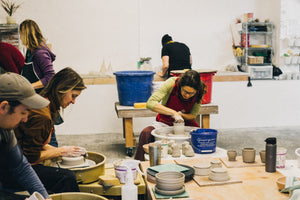 Classes
The Clay Commons educational program works to create a space where students can develop community and improve their pottery skills by learning innovative techniques and nurturing their creativity.
It is our mission to support students as they continue to grow their ability to design and form high quality ceramic work. 
Learn More
The Potters Cast
A Community Business | Episode 794
On December 21st 2021, Dyana Fiediga of The Clay Commons was featured on The Potters Cast!
Learn More
Studio Calendar
Curious if we are in the studio? Want to see if a certain date is available to schedule an family class? Click here! 
Student & Member Studio Scheduler
We now have a studio scheduler created with YouCanBook.me to ensure there is wheel or space available at a that time.
Students have access during open hours. Full time members have 24/7 access.
Click here for hand building room
Click here for wheel room
Click here for glaze room
Find us @theclaycommons
500 Industrial St
Hood River, OR 97031
Look for the Clay Commons sign tucked to the left of the sculptures.
Open /Drop In Hours:
Wednesdays 4-8pm
Thursdays 4-8pm
Fridays 10-2pm
Saturdays 10-2pm